A rural hotel that makes the difference
We are located in the heart of La Vall d'Alcalà, a beautiful and isolated valley surrounded by mountains in the district of Marina Alta (Alicante). In addition to pure and calm landscapes in our charming rural hotel you will feel warm, comfortable and well looked after. We pay special attention to the smallest detail. Also in the kitchen, where each dish we make is a tribute to the palate. And whether you are looking for a place to give a boost to your company, to take a break or to attend a course, congratulations you found us!
Blog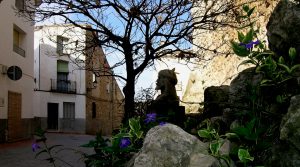 La Vall d'Alcalà, en el interior de la Marina Alta, es también conocida como la Montaña de Al-Azraq. Pero, ¿quien se esconde detrás de este evocador nombre que en los últim...
El hotelito acogedor con habitaciones muy amplias y una muy buena cocina muy elaborada con productos de la zona, un diez en el trato, volveremos. El desayuno es perfecto con todo lo que necesitas. Del pueblo salen muchas rutas como la ruta de Penya Foradà.
Hotel tranquilo, perfecto para relajarse. Habitación espectacular, y las instalaciones encantadoras y muy acogedoras. El servicio muy amable y familiar. La comida...sin palabras! Todo delicioso, ofreciendo tradición con mucho estilo y los detalles muy cuidados. El entorno es precioso. Perfecto para venir en pareja. Un 10!
El hotel es una casa magníficamente restaurada. Habitaciones muy espaciosas y decoradas al estilo de la zona. Magnífica cocina con productos de proximidad y de buena calidad. Buena elaboración. Resumiendo magnífica cocina y cocineras. Trato muy familiar. Volveremos.